Dreamfeel Blog
Spooktober 2018 - Flicksy Game Maker, GDC Scholarships, Telltale Games
---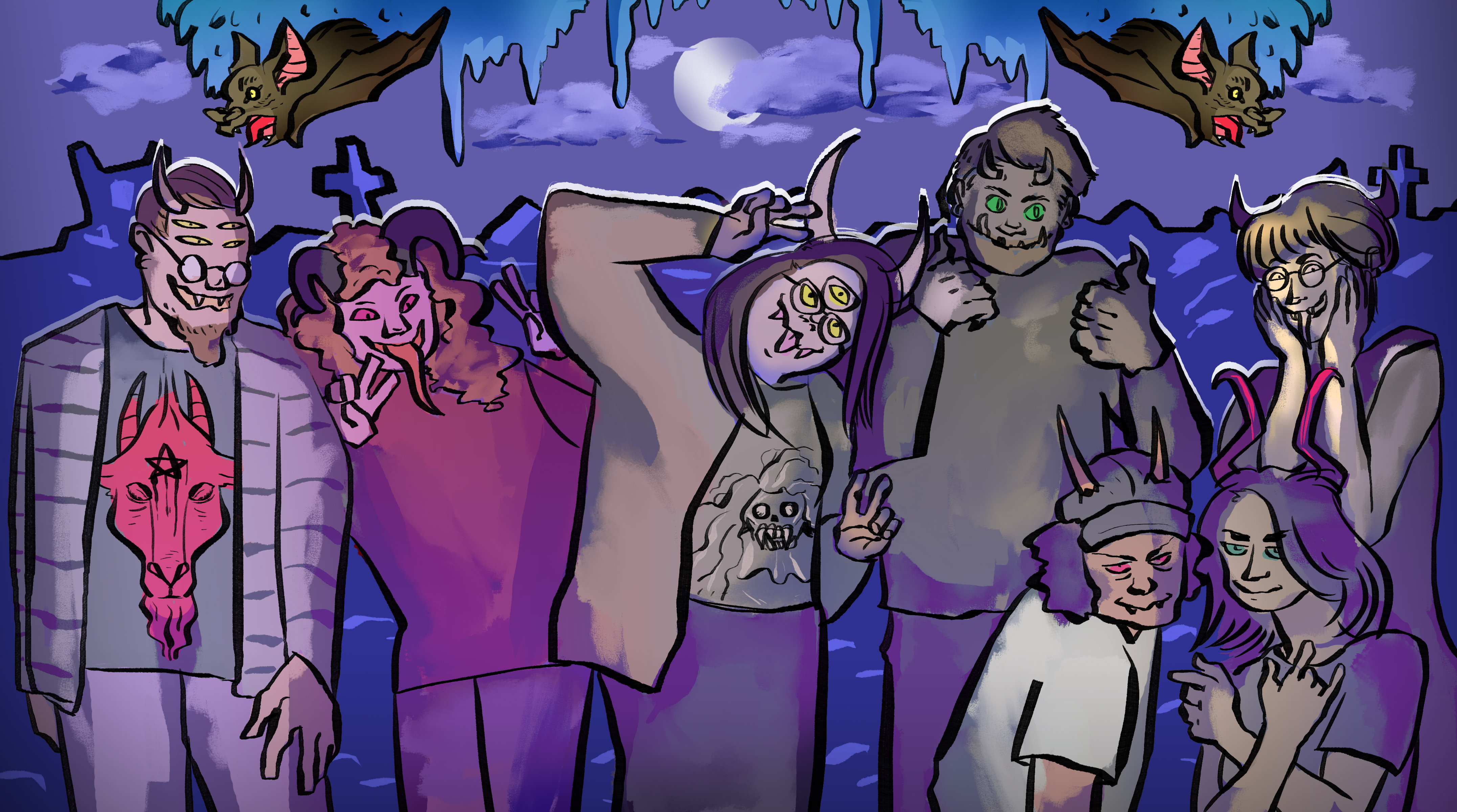 Hell-BOO-o. Did we get ya? Well get used to it pal, cos it's Spooktober (or "October", as some people (or "losers") insist on calling it). This m-BOO-onth we're working away on our cool game (IF FOUND!) but we also have some kewl news and bits to share, so please, devour this update IF YOU SO DARE.

Actually, wait, I just noticed a trap door beneath my chair, which I'm certain wasn't here yesterday… what a surreal and bizarre and tense thing to discover as I write this update. Goodness gracious, I certainly hope that it doesn't suddenly OOOOOOOPENNNNNNNnnnnnnnnnnnnnnnnn…
[an echoing noise resounds from the pit]
"Here's the news."
/////////////////???\\\\\\\\\\\\\\\\\\\
THANK U GABY
V special thanks to Gaby Aveiro-Ojeda for making up the SPOOKTACULAR image you see above you.
Here is their website: http://www.gabyaveiro.com/
Check out their recently released de-colonial cyberpunk game 1870: CYBERPUNK FOREVER here: https://gabymon.itch.io/1870 and get excited for DON'T WAKE THE NIGHT !! https://www.patreon.com/babbygoth
/////////////////???\\\\\\\\\\\\\\\\\\\
Tim is looking for a Writer!
Our talented programmer Tim is looking for someone to do some freelance writing work for his upcoming vehicle based tactics game. Send samples/CVs to explodingpigeongames@gmail.com
Info + screenshot here: https://twitter.com/Tili_us/status/1049609781697236993
/////////////////???\\\\\\\\\\\\\\\\\\\
Haunted PS1 Halloween Game Jam!
Breogán is running a HAUNTED PS1 HALLOWEEN JAM, which you can see all the details of here: https://itch.io/jam/the-haunted-ps1-halloween-jam
/////////////////???\\\\\\\\\\\\\\\\\\\
Flicksy Game Maker!
Check out this cool game creation tool from @ragzouken! Inspired by Bitsy and Flickgame.
https://candle.itch.io/flicksy
/////////////////???\\\\\\\\\\\\\\\\\\\
IGDA GDC Scholarships Open
The IGDA Scholars programme is accepting applications for GDC:
http://igdafoundation.org/2018/10/gdc-2019-program-applications-open/
/////////////////???\\\\\\\\\\\\\\\\\\\
SOLIDARITY
Solidarity to folks at Telltale Games who lost their jobs recently following the sudden closure of the studio.
If you're a worker in the games industry, we suggest you get involved with Game Workers Unite, which seeks to build solidarity across workplaces in the games industry.
Join Game Workers Unite:
https://www.gameworkersunite.org/get-involved
/////////////////???\\\\\\\\\\\\\\\\\\\
Video Game Writing Workshop
The inspirational Char Putney is hosting a Interactive Fiction/Video Game Writing in Dublin on Saturday! There are still slots for it :)))
More info: https://irishwriterscentre.ie/collections/all-courses/products/interactive-fiction-video-game-writing-with-charlene-putney-autumn-2018
/////////////////???\\\\\\\\\\\\\\\\\\\
Sour Pop Arts
There's gonna be a neat lil pop up art market in Galway on October 27th!
More info from their twitter: https://twitter.com/sourpoparts
/////////////////???\\\\\\\\\\\\\\\\\\\
DCAF
Dublin Comic Arts Festival is back at Generator Hostel in Smithfield on October 13th!
Stall it along!
Facebook event:
https://www.facebook.com/events/300422683873269/
/////////////////???\\\\\\\\\\\\\\\\\\\
TLAS @ RHA, 17th October
"This hour long event presents an exploration of trans temporality and an investigation into the possibility of non-linear and 'non-standard' transition. The story of a trans person's journey from one gender to another, one sex to another is largely the story of the stationary or consistent life of the cis (non-trans) person. With an introduction to the concept of trans temporality by artist Kate Kiernan, and the platforming of new work on transition by artists Lu Saborio and Ríon Murphy TLAS present a short, accessible look at new narratives on transition by trans people working in Ireland today."
FB Event for details + tickets: https://www.facebook.com/events/192072168388646
/////////////////???\\\\\\\\\\\\\\\\\\\
~aido's music dungeon vi~
your last wheezing gasp,
was the only thing to escape.
o how it fluttered about like a dying bee,
banging off things,
like you, and so on...
but you gasp again in spite of yourself.
your escape is yet to come,
and until that moment,
your thingness remains,
to be banged off and forgotten,
between these dungeon walls.
DISCWOMAN 54 x Odete
https://soundcloud.com/discwoman/diw
Dream~cycles - RB Alumni Mix - 2018
https://soundcloud.com/dystopiandream_cycles/alumni-mix-dreamcycles-2018
Shock World Service 0080: Melly
https://soundcloud.com/shock-world-service/080-0mph-melly
~~~~~~~~~~~~~~~~~~~~~~~~~~~~~~~~~
Royal Haunted Library of Haunted Games ~~~~~~~~~~~~~~~~~~~~~~~~~~~~~~~~~
"There seems to be a problem. Yes, I see now... It appears your library card expired… TWO HUNDRED YEARS AGO."
…
"Hm. But that's no problem at all. Ghosts are very welcome here. Attracts the tourists, you see. Not to mention, ectoplasm is great for dry skin. Take anything you like, dear."
Monster Hearts 2
By Avery Alder
Avery Alder rules and so does Monster Hearts, the "what if Buffy had MORE sexual tension somehow?" RPG of teen monsters in lust.
https://buriedwithoutceremony.com/monsterhearts
SEPTEMBER 1999
by 98demake
Wake me up when September 1999 ends, cos dang this is TOO SPOOKY.
https://98demake.itch.io/september1999
World of Horror
by panstasz
This is such a cool lil weird 1-bit RPG inspired by the work of our bae Junji Ito (am I allowed to say that? Sure! OUR BAE JUNJI ITO).
https://panstas.itch.io/world-of-horror
The Tomatoes Are Okay
by Dan Sanderson
This game gave me a headache… in a ...good way?
https://danthai.itch.io/the-tomatoes-are-ok
Hurry The Sorry Word
by Nate Gallardo
A spooky game from deep in the Royal Haunted Library of Haunted Games' archives.
https://nategallardo.itch.io/hurry-the-sorry-word
Port BloodChute
by NosferatChew
https://nosferatchew.itch.io/port-bloodchute
GENDERWRECKED
by Ryan Rose Aceae
https://gendervamp.itch.io/genderwrecked
~~~~~~~~~~~~~~~~~~~~~~~~~~~~~~~~~
PEACE,
the dreamy (feel) dreamers